Technology that improves the accommodation experience and solves all host problems
Nowadays, the global trend in hotel units as well as smaller tourist homes or villas is leading to create an ever greater energy efficient, green & smart buildings. Have you ever wondered what are these "smart" properties that set them apart from the competition?
Top Energy Efficiency & Ultimate Heat Comfort
In addition to the necessary construction, thermal insulation and energy-efficient windows, the most important interfere in a tourist accommodation is the modernization of the heating-cooling and hot water production systems, as they are responsible for approximately 70% of energy consumption of the building. The key variables for the success of a cooling & heating system are two: The Energy Saving Achieved & The Thermal Comfort It Offers.
Most modern branded home heating and cooling systems have a high degree of efficiency and operational reliability, as design and installation are carried out by qualified engineers and technicians respectively. But the most important role in achieving energy saving and thermal comfort is the control systems. In particular, Smart Home Control Systems as they are called, offer quality and efficient control over all devices with the most advanced programming and optimization algorithms. At the same time, they enable real-time performance capture, remote control via pc, tablet or mobile, and automatically report installation problems.
Smart Home - Ideal for tourist accommodation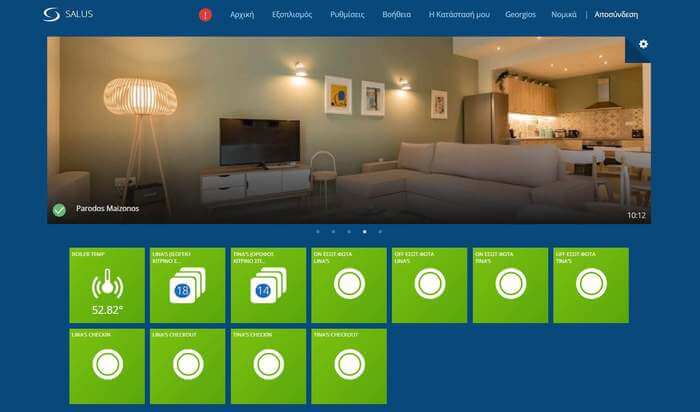 In tourist accommodation, modern "Smart Home (or Smart Hotel)" systems offer an improved experience to the guests, after being highly user-friendly and providing a high degree of personalization as they are rapidly adapted to their needs. At the same time, Smart Home solves host problems as it can save money on both energy consumption and maintenance costs, while providing instant on-line information on all operating parameters.
The philosophy of "Smart Hotels" & tourist accommodation is becoming more and more popular, precisely because it benefits both owners and visitors.
Case Study: Smart Home in Tourist Accommodation in Kalamata
Kalamata Mediterranean Villas villas are an example of modern tourist accommodation, with Heating, Cooling & Production of Hot Water systems exclusively from renewable energy sources, innovative construction materials, and a special respect for the micro environment to ensure high comfort of accommodation & hospitality.
ANDRIANOS has been successfully completed the supply, installation and customization of the Smart Home SALUS system in the two-storey house of 240 sq.m., with the name "Country Home". The desire of the owners was to centralize and remotely control of the Heating, Cooling & Production of Hot Water systems, all electrical appliances, recording their energy data, and ensuring the security of the building.
The new intelligent Salus Smart Home management & control system installed in the Country Home rental villa in Kalamata includes:
The Universal Gateway - Salus UGE600, which is the heart of the Smart Home system, that connects wirelessly or wired to the internet & communicates with all smart devices.
The Smart Fan coil Controller - Salus FC600, for heating & cooling control. An FC600 was installed in each room of the accommodation, for complete autonomy in the control and achievement of absolute thermal comfort.
The Smart Relay - Salus SR600 mounted on the electrical connection boxes & on the electrical panel to control all electrical appliances, lighting, heat source and more.
The Magnetic Window Sensors - Salus SW 600 installed in doors & windows to detect if the door or window is open or closed and accordingly deactivates or activates air conditioning.
The Energy Consumption Meter - Salus ECM 600, which measures the total electrical consumption of the building and 3 additional amenities (Heat Pump - Refrigerator - Kitchen)
The Smoke Detector - Salus SD600, for real-time smoke detection, which alerts with sound and flash alarms when it detects smoke and alerts owners and managers with free SMS and email.
The Water Leak Sensor - Salus WLS600, which detects water leaks in plumbing and sends alert in case of leakage and / or flood.
The Roller Shutter & Light Switch controller - RS600, for open/close the most popular window roller shutters on the market & the lights in your home (single light switch, double light switch, monostable and bistable contacts).
All of the above Salus Smart Home products were installed by the specialized technicians of the ANDRIANOS Energy Saving Tech Force (EOT-ΕΞΕ), with the necessary collaboration of the Tech & Smart Home specialist of the company.
UGE 600 – Universal Gateway
FC600 – Smart Fan coil Controller
SR600 - Smart Relay
SW 600 – Magnetic Window Sensors
ECM 600 – Energy Consumption Meter
SD600 – Smoke Detector
WLS600 - Water Leak Sensor
RS600 – Roller Shutter & Light Switch controller
Smart Home App
Smart Function & Multiple Benefits with Smart Home

Thanks to the smart features of the devices and their proper programming, both owners and guests of the property are now enjoying new smart amenities.
As soon as the owner receives a new booking, he or she can now preheat or cool the property via the mobile phone, wherever he is. Likewise, prior to check-in it activates the desired illumination so that the customer receives the best impression upon entering the property.
In addition, it receives notifications via sms & email about any dysfunction of the heating or cooling system, as well as leaks or fires. At this installation the owner receives an SMS notification when the main door is opened or closed. In this way it controls the entry / exit of the guests, the cleaner & the gardener.
Thanks to smart energy meters, it has complete control over energy consumption to take immediate corrective action to further save.
For additional savings, the magnetic window sensors Salus SW 600 were integrated with the Fan Coil Controller FC600 to turn off the heating in a room when the room window opens and to reset the heating when the window is closed.
Guests at the property can use the SALUS Smart Home app to safely control a wide range of electrical appliances that are interconnected to the system, such as lighting, ventilation, a coffee maker or electric towels in the bathrooms.
Finally, guests enjoy high-quality thermal comfort thanks to the room-by-room control autonomy offered by the Salus Smart Home.

Advantages of Salus Smart Home

- The Salus system is the only Smart Home that achieves real energy savings in building consumption. This is achieved thanks to the high expertise of SALUS and ANDRIANOS in the optimization of Thermal Comfort conditions and the strong know-how of electronic systems.
- Salus Smart Home is renowned for its simple and fast installation. Thanks to its wireless devices and ease of installation, it is also ideal for installation in existing buildings.
- The development of Salus Smart Home system never stops. Existing devices are constantly being upgraded. Upgrades are automatically downloaded and installed on smart devices so new features are added every month to existing systems. In addition, Salus adds new smart devices, such as the smart roller controller, new thermostats, new smart plugs and more.
- Has effective support from the specialized Smart Home department. During initial installation and setup-programming of the system, Tech & Smart Home Specialists of ANDRIANOS, implement all the necessary scenarios and smart rules (from the many offered by SALUS) according to customer needs and requirements. They are also close to customers for any assistance they require and the necessary technical support.
SALUS in Greece & Cyprus by ANDRIANOS
ANDRIANOS's commitment to quality has led to a choice of partners and products, with a focus on high technology and innovation. SALUS is one such choice that ANDRIANOS team trusts and strongly recommends to its clients.
SALUS Controls is a member of The Computime Group Ltd, Hong Kong, widely regarded for its electronic control technologies, research & design capabilities and manufacturing services. It occupies a unique niche in appliance, heating, air conditioning, smart energy and building automation sectors, serving customers in commercial, industrial and consumer markets throughout Asia, North America and Europe since 1974.
SALUS Controls builds solid partnerships and provides dependable solutions to enable our customers' success. We have a performance culture which seeks to anticipate our customers' requirements with quickness and flexibility. Most importantly, we offer our customers fast service and exceptional professional support.