ANDRIANOS, one of the most active and specialized companies in the field of Heating, Air-Conditioning and Energy Saving, celebrates 25 years since its establishment. Since 1994, provides Energy Solutions to meet the need for Thermal Comfort and Domestic Hot Water production, with modern products, quality installation and high levels of efficiency.

History – Milestones
1994
ANDRIANOS is founded by Georgios Andrianos, Dipl. Electrical Engineer. Based in Kalamata, it was initially active in the retail trade, installation and support of heating and air-conditioning systems in the Peloponnese and soon has became a leader in the local market.
---
2000
It is certified with ISO 9001, in all areas of activities, validating its commitment to quality even when certifications were not widespread.
---
2001
By using holistic expertise and great knowledge of the needs of the Greek market, it has expanded into imports and wholesale trade throughout Greece and Cyprus. The milestone of this period is the exclusive partnership with the top German company GOK, which is a leader among the LPG components manufacturers worldwide, a partnership that is continued with great success until today.
---
2007
Another important and exclusive partnership with the Austrian TiSUN in Solar Thermal Systems has established ANDRIANOS as the most specialized company in Solar Thermal, in Greece.
---
2012
The range of LPG products has been enriched with the leading LPG tanks of the Italian brands of RCS and Plinoxotar.
---
2013
ANDRIANOS has entered into a strategic trade agreement, in the field of wholesale as a Master Dealer for Greece, with "AHI CARRIER N.A. EUROPE" for CARRIER & TOSHIBA products.

---
2015
It 's established the subsidiary company, Energy Saving Tech Force, which undertakes the facilities and the technical support of ANDRIANOS's customers. Energy Saving Tech Force is a team of skilled and licensed technicians and engineers with actions that are characterized by quality and devotion to the suppliers, clients and consumers, based in the holistic know-how and experience in the simplest to the most complex electromechanical projects.

---
2016
Starts cooperation with ARISTON, the global specialist in water heating and heating products, which provides efficient and high-quality solutions worldwide.
The successful collaboration with Salus since 2010 is now expanding and ANRIANOS has became the exclusive dealer of their products in Greece and Cyprus, especially in Smart Home 's sector.

---
2017
It produces and distributes worldwide the leading Solar Thermal Systems with the brand name ANDRIANOS - World Leading Solar Thermal Technologies.
---
2019
Participates, for the first time, in the most important international exhibition of HVAC, the ISH 2019, to promote its Solar Thermal Systems.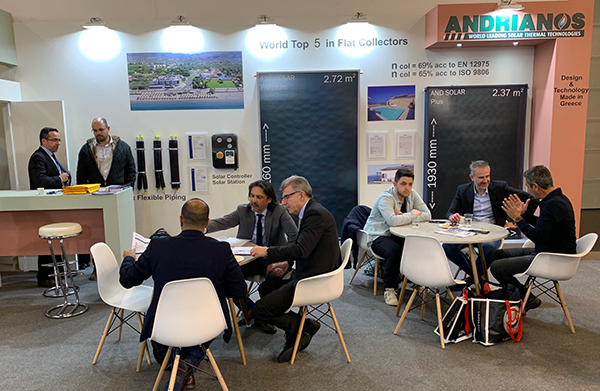 ---
Today
25 years after its foundation, ANDRIANOS is experiencing a period of rapid growth:
- The workforce of the company is 24 people.
- It has the complete range of products and systems of Cooling-Heating-Ventilation-DHW Production & represents over 20 leading companies such as SALUS, RCS, WITZENMANN, NMC, ALGAS SDI, WATTS, TACONOVA, IVR, MBM, ARCO, CEME, AQUAMAX, CWT, CAEM, REFLEX, LOCTITE, FERNOX, TECNOGAS, MERTIK MAXITROL, OMB, RIELLO, RESOL, etc.
- It has a nationwide network of wholesale partners with more than 100 points of distribution of its products and systems in Greece and Cyprus.
- Ηas installed more than 10,000 successful thermal comfort and DHW production systems, including the largest solar thermal project in a public building all over the Greece (Kalamata's Hospital 2013).
- Continues to follow the highly successful model, which is based on the development of its human resources, the evolution of its partners and the continuous modernization of its products according to the highest quality and environmental standards.
25 years since its establishment, ANDRIANOS has created stable relationships of trust with partners, consumers and suppliers and remain faithful to its commitments. Provides the optimal & most modern Energy Solutions for heating, air conditioning & hot water production and fully meets the need for thermal comfort, with high efficiency and maximum energy savings.
.