The new nimbus NET R32 provides a sleek-looking and highly-efficient solution for sustainable heating, cooling and water heating. The new heat pump range comes from Ariston's willingness to continuously upgrade and advance its offer, staying always at the forefront of innovation while offering a truly effective way to help you live more sustainably. Nimbus NET 32 heat pumps use R32 refrigerant. That means that not only do they offer top-class energy performance, but they are also an excellent option to let you achieve maximum comfort with a lower environmental impact.
Characteristics:
All the models of this range deliver best in class energy performance.
Powered by R32 refrigerant
The use of R32 refrigerant gas reduces the product's environmental footprint.
Quiet operation in every condition
The noise level can be reduced even further with silent mode.
For the maximum efficiency with minimum energy consumption.
Smart control of comfort through the Sensys Net HD thermostat and the Ariston NET app
NIMBUS POCKET M NET R32 - Monobloc inverter heat pump for heating and cooling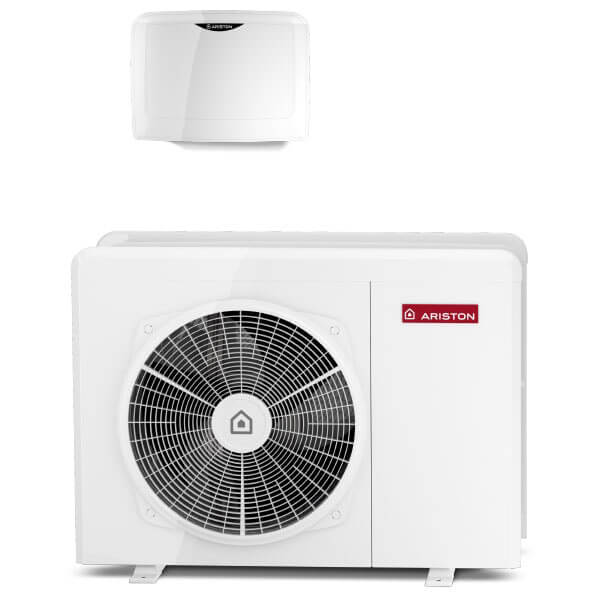 Characteristics:
Monobloc inverter heat pump
COP up to 5,1
Quiet noise, up to 53 dB(A)
Power range from 1,7 up 17,7 kW
Modern and functional design
Sensys HD is included
The Light Box can also be installed externally
Plug & Play
WI-FI connectivity is included
Remote management with Ariston NET
Remote assistance (optional)
Photovoltaic function
---
NIMBUS PLUS M NET R32 - Monobloc inverter heat pump for heating and cooling

Characteristics:
Monobloc inverter heat pump
R32 refrigerant
COP up to 5,1
Quiet noise, up to 53 dB(A)
Power range from 1,7 up 17,7 kW
Modern and functional design
Sensys HD is included
The Light Box can also be installed externally
Plug & Play
WI-FI connectivity is included
Remote management with Ariston NET
Remote assistance (optional)
Photovoltaic function
---
NIMBUS FLEX M NET R32 - Monobloc inverter heat pump for heating, cooling and domestic hot water production
Characteristics:
COP up to 5,1
Quiet noise, up to 53 dB(A)
Power range from 1,7 up 17,7 kW
Sensys HD is included
Extremely efficient even in cold climates, with integrated 2 kW + 2kW elements for guaranteed comfort in every situation
Easy access to the front
Simplified installation thanks to special kits
Expansion tank 12 l
WI-FI connectivity is included
Remote management with Ariston NET
Remote assistance (optional)
Photovoltaic function
---
NIMBUS COMPACT M NET R32 - Monobloc inverter heat pump for heating, cooling and domestic hot water production
Characteristics:
Monobloc inverter heat pump with integrated container 180 l
R32 refrigerant
COP up to 5,1
Quiet noise, up to 53 dB(A)
Power range from 1,7 up 17,7 kW
Modern and functional design
Sensys HD is included and can be integrated on the pump
Easy access to the front
Simplified installation thanks to special kits
Built-in magnetic filter
Expansion tank 12 l
Expansion tank 15 l and expansion tank DHW can be integrated (optionally)
Available in versions with 2 integrated zones
WI-FI connectivity is included
Remote management with Ariston NET
Remote assistance (optional)
Photovoltaic function
Contact ANDRIANOS for more information about the new Ariston Nimbus Net R32 heat pumps