In many industrial and craft buildings, as well as in other professional spaces, it is considered necessary to achieve constant Humidity depending on the products and the respective application.
With the humidity regulation & control systems, (Stable Humidification Systems) a systematic monitoring of the humidity levels in the space is carried out. The range of humidity adjustment ranges from 1% to 99%, depending on the requirements of the application. The installation of Fixed Humidification Systems is considered necessary in many different applications of the commercial and industrial sector where it is strongly applied in recent years.
Areas & Applications Required Stable Humidity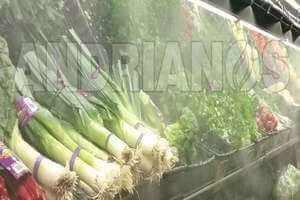 Food Sector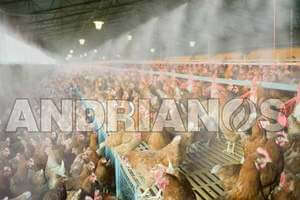 Livestock Units
Winery Cellars
Greenhouses
Tobacco industries
Archeological museums
Airports
Wood warehouses
Medicine warehouses
Humidity control systems find perfect application in the winery sector, in grocery stores such as supermarkets, butchers, grocery stores and fishmongers, which give more and more weight to the appearance of their fresh produce. They also bring significant advantages in the livestock sector to companies such as horse farms, equestrian clubs, racecourses, pig farms, cows, etc. Another professional sector that needs constant percentages of moisture is car paints and varnish applications in various materials such as wood frames. Finally, in storage areas of vulnerable agricultural products such as potatoes, fruits, vegetables, fruits, a constant humidity is considered necessary with a percentage proportional to each species.
How do Fixed Humidification systems for Humidity Control and Regulation work?
For the desired levels of humidity and temperature, specialized 70bar high pressure water intake sprinkler systems are used, where the spraying is controlled by special electronic humidifiers-thermostats of advanced technology commands. Through the central electronic control units (control panel), the humidity and the temperature of the room are automatically regulated, all seasons of the year 24 hours a day, regardless of the size of the unit and the external conditions of the environment.
Advantages of controlling and regulating the humidity level
Creating suitable climatic conditions.
Significantly less electricity is consumed.
Minimize losses of many products (eg wine).
Low cost of installation and operation of the systems.
Depreciation of investments in a very short period of time.
The quality of the products is maintained at the maximum desired levels of freshness.
Proper result when processing and manufacturing various materials or components.
Stable Humidification Systems by ANDRIANOSS
With the new generation constant humidity system of ANDRIANOS and the 15 years of experience and know-how of our specialized engineers we can have huge accuracy in the humidity levels we want, creating the ideal climate for any application. Our facilities are fully harmonized with the requirements of the new ISO 9001: 2015, after being certified by the Certification Body TUV Austria Hellas. In Greece it is the only certified company for the marketing, handling, installation and technical support of high pressure water intake systems.