Underfloor heating is a heating system in which the thermal energy comes from the inside of the floor. Special pipes are placed throughout the underfloor surface so the hot water is circulated in them. In this way the space is heated uniformly at a fixed temperature, without air flows created as in other heating modes (radiators, fan coils, etc.) and the room temperature distribution is the best possible.
The AND Underfloor Heating/Cooling System has been developed for this exact reason and meets all the criteria for an ideal and healthy climate in your home, since the large radiant surface that is created increases the thermal comfort range.
The result is to enjoy the perfect climate all year round, the desirable thermal comfort and the unique benefits that provide a "higher" quality of life: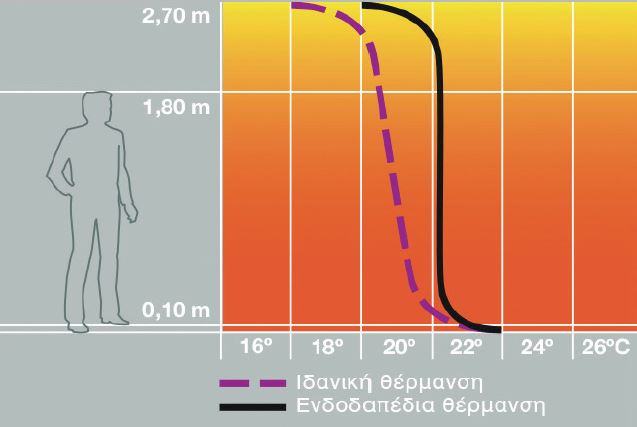 Energy Saving
Radiation systems achieve energy savings of 12% to 20% on an annual basis, because these systems work at low temperatures and create a relaxing atmosphere at room temperature of 20 degrees or less (compared to 22 degrees or more, required in conventional heating systems with radiators).
In addition, the operating cost of the system can be reduced to the absolute minimum by combining a heat pump in order to use the energy stored in the atmosphere and to work independently from expensive sources of energy such as oil.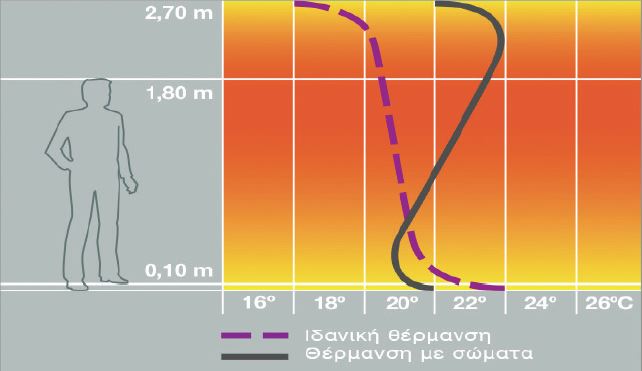 High Sanitation Level

Underfloor heating and cooling systems are pure radiation systems, so they achieve a low operating temperature, similar to room temperatures.
This automatically creates better hygienic conditions as the slightly heated surface - due to the small temperature differences - does not create air flows and dust recirculation, as the conventional radiator heating.
Floor Cooling
A flooring system, which during the winter period creates ideal thermal comfort conditions, can also be used for cooling during the summer season. The underfloor cooling system is a silent solution that does not generate air drafts and combined with a heat pump, can reduce the total system's operating cost to minimum.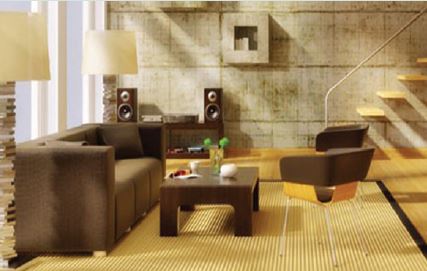 Better Use of Spaces - No more exposed heat radiators
With a floor heating and cooling system, all the exposed heat radiators and air conditions are removed. This results in complete freedom in the formation of spaces, since the place is freed from everything that prevents its formation.
Contact ANDRIANOS for Underfloor Heating
The distinct stages in the installation of AND Floor Heating
ANDRIANOS offers complete underfloor heating systems: From the study and analysis, to installation, operation and maintenance.
The installation stages of an underfloor heating system are:
Installation of Perimeter Insulation

Installation of Thermal Insulation
Installation of Plastic Placing Sheet
Installation of the Grid
Pipe Installation
Thermal Circuit Intergration & Installation of spacers
Installation of Thermal Concrete & Installation of Expansion Joints
Installation of Perimeter Insulation

Installation of Thermal Insulation

Installation of Plastic Placing Sheet

Installation of Thermal Concrete & Installation of Expansion Joints
Materials for Underfloor Heating Systems AND floor heating
AND molded plates
Floor Heating and Cooling System using molded plates - for new constructions and renovations.
The molded plates are used in a wide range of applications using a 17X2.0 mm PEB cross-linked polyethylene flexible tube.
The installation is easy, with the possibility of diagonal laying and without the use of additional support materials. It offers the possibility of low height applications and creates a water vapor barrier in the paving area.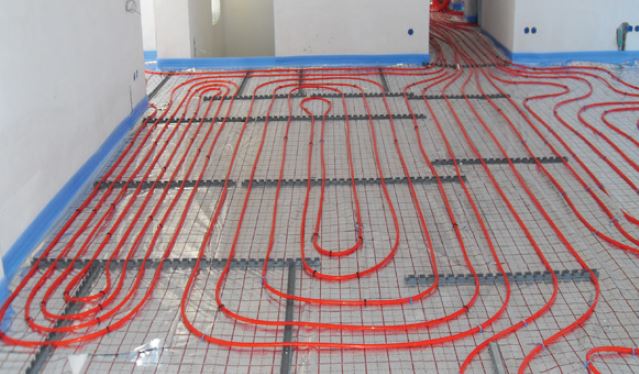 AND Tacker
Floor heating and cooling system with special pipe hooks on thermal insulation boards - for new constructions and renovations.
This system facilitates the paving of the pipe with asymmetric geometric spaces and allows all types of floor heating and floor heating system.
Distribution and Automation systems
Underfloor heating and cooling systems are completed with the distribution and automation program including collectors, thermostats, electrothermal heads. All of these individual components are part of the most modern integrated heating and cooling system floor: AND floor heating.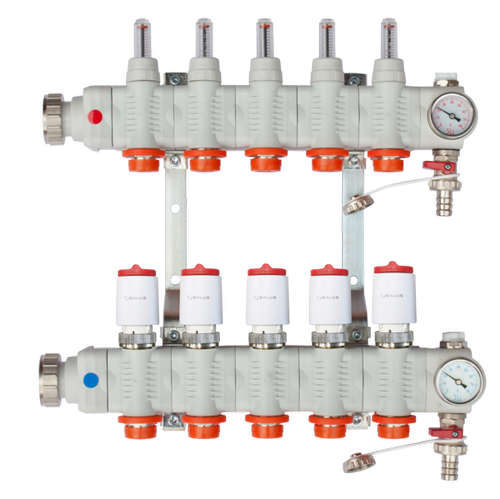 Collectors
AND Floor heating system collectors are non-corrosive, stainless steel INOX, cross section 1 and 3/4 Eurocone outputs with regulating switches, with flow meters and thermostatic return switches for actuating actuators 24Vac or 230V , with evacuation valves, ventilators, thermometers on both bars and a set of supports. They start from 2 facilities and reach 12.
Collectors' Panels
The collectors can optionally be installed in special white galvanized panels with a detached door and lengths from 400mm to 1000mm for the 509B series and 600mm to 1200mm for the 513 series.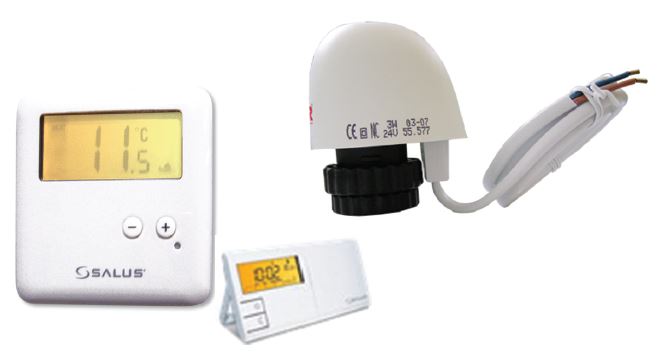 Room Autonomy / Automation
For individual room autonomy, actuators 24Vac or 230V are mounted on the collectors, which are connected to the system thermostats with an accuracy of ± 0.5 ° C.
---
Automatically hydronic balancing in the underfloor heating collector by ANDRIANOS
Proper hydronic balancing in an underfloor heating system can ensure absolute thermal comfort in the space for the occupants as well as significant energy savings. However, it is a very difficult and laborious process, both for the engineers undertaking the design and the technicians completing the project.
SALUS THB23030 replaces the simple thermoelectric actuators which are installed in the manifold of the underfloor heating system. Using temperature sensors for the inlet and outlet of the manifold, auto balancing thermoelectric actuator has the ability to dynamically balance the flow from each loop in order to ensure the ideal thermal comfort in the room.
See the operation of auto balancing thermoelectric actuator THB23030 in the video below:
More information about SALUS THB23030
Underfloor Heating Control Systems from SALUS
For the effective control of the underfloor heating system, ANDRIANOS has the specialized Salus Smart Home system that includes a wide range of devices to cover every type of installation:
1. KL08RF – Wiring centre, for 8 zones - Code: 048.002.0205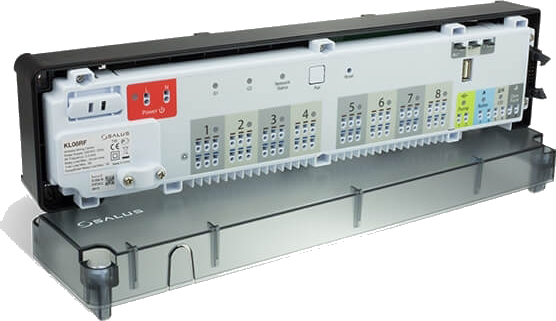 Wiring Center is located in the central collector of the installation and controls the Thermoelectric actuator (T30NC) that open and close the underfloor circuits.
KL08RF Wiring Center operates wirelessly with the SALUS Smart Home series thermostats.
There is also the extension of the wiring center KL04RF for control of additional 4 zones - Code: 048.002.0210
Wired Wiring Center
In case there is wiring from the thermostats to the collector (eg in a new installation) we can use the wired Wiring Center KL08NSB - Code: 048.002.0270 - page 152 of ANDRIANOS catalogue.
If we choose the wired cabling center KL08NSB, we will necessarily choose the wired thermostat (SQ610)
2. Thermoelectric actuator SALUS T30NC – Code: 048.002.0065
Thermoelectric actuators SALUS T30NC are placed in the central manifold and control (open and close) the underfloor circuits wired.
Alternatively, we can choose the corresponding ENGO E30NC230 Thermoelectric Actuator or the SALUS THB23030 Auto Balancing actuator which automatically does the necessary hydronic balancing of the Underfloor Heating circuits.
3. Smart Thermostats - many options available from SALUS
We choose as many thermostat units as the autonomy zones we want to have. Ideally we install a thermostat per room.
Each thermostat is then adjusted to control the TRV Heads of the respective room.
It is recommended to choose a Smart Thermostat from the following list:
HTRS-RF(30) – Wireless Digital Thermostat SALUS Smart Home - Code: 048.002.0285 (VFM choice)
SQ610RF Quantum – Wifi Thermostat SALUS Smart Home - Code: 048.002.0325 (TOP choice)
SQ610 Quantum – Wifi Thermostat SALUS Smart Home - Code: 048.002.0330 (Surface-mounted -230V)
TS600 – Wireless Thermostat - Code: 048.002.0315 (for control only through application)
For more thermostat options see the ANDRIANOS catalogue.
---
AND Floor Heating - Underfloor Heating Systems since 1994
ANDRIANOS' Heating and Cooling Systems AND floor heating, offer a complete system that meets every need and demand: ideal for new houses, renovations, office buildings, industrial and sports facilities, any building.
Contact ANDRIANOS for Underfloor Heating
New Underfloor Heating System RAUTHERM SPEED plus RENOVA from REHAU with only 21mm construction height
Ideal for renovation or new floors, the new Underfloor Heating System RAUTHERM SPEED plus RENOVA from REHAU with only 21mm construction height.
Unlike other underfloor heating systems that requires at least 60mm construction height, new underfloor heating system from REHAU, RAUTHERM SPEED plus RENOVA, is the most innovative and easy solution in underfloor heating.
The advantages at a glance:
Underfloor cooling / heating
Construction height from 21mm
Ideal for tiles, parquet and other floors
Quick and easy installation
Short drying time
Low supply temperatures
Ecological - Saving heating costs up to 20%
DOWNLOAD THE COMMERCIAL BROCHURE RAUTHERM SPEED plus RENOVA