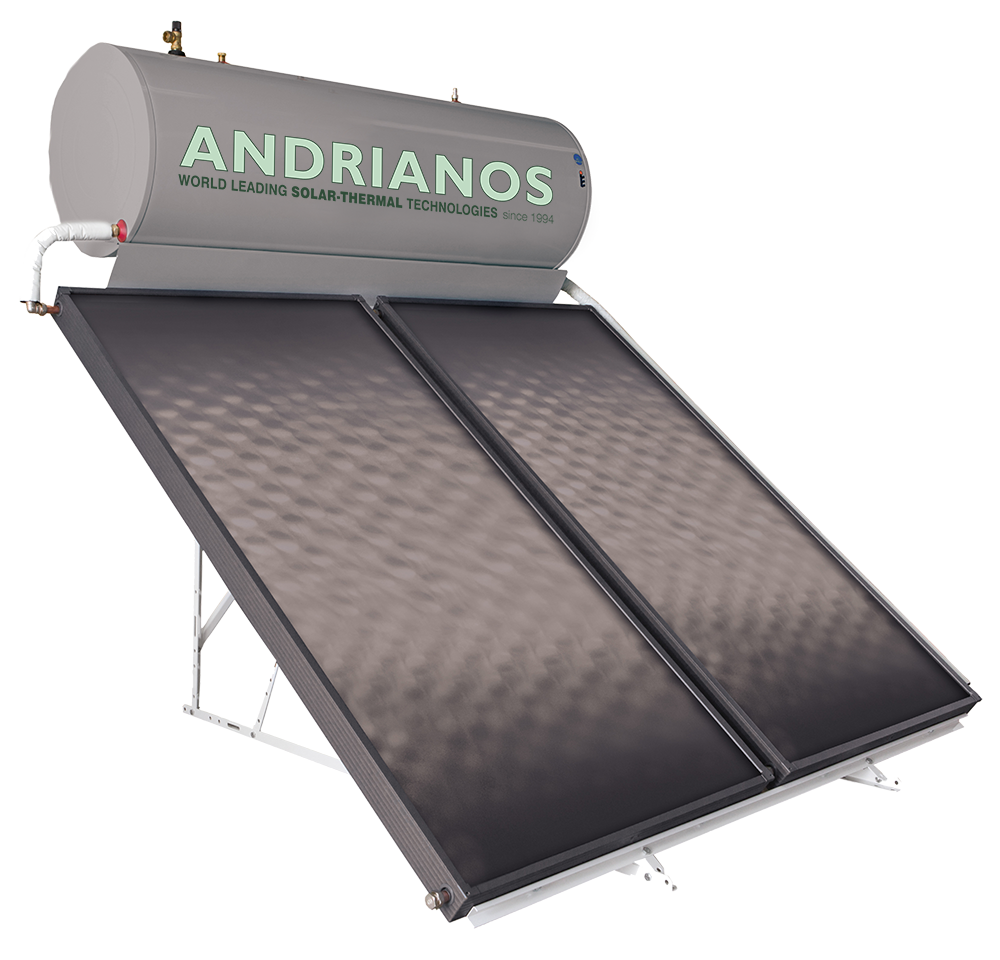 Using its long experience in Solar Thermal Systems, ANDRIANOS designed, produced and distributes from 2014 in the Greek and Cypriot market the top ANDRIANOS water heater which is available in 120lt to 500lt,combined with certified solar collectors from Solar key mark and SRCC.
The solar water heater is an energetic solar thermal hot water system. It is widely used in countries with high sunshine, for example in the Mediterranean countries and, of course, in Greece which has been pioneering in solar water heaters since the 1970s.
The solar water heater is the simplest and best known solar appliance.
In this sector of the Greek market, with special requirements and high level of competition, the solar heater ANDRIANOS with numerous successful installations, confirms the advanced know-how in solar thermal systems, which is sealed with this excellent product, which besides the well known quality of ANDRIANOS, combines an excellent price-quality level.

ANDRIANOS water heaters come with a 10-year guarantee
The high resistance to extreme temperatures and the ultimate waterproof of the solar collector is achieved thanks to EPDM, silicone and polyurethane mastic sealings, while the collector's front cover is a low iron content safety glass 3.2mm thick.
The frame of the collector is made of powder coated aluminium for maximum protection to seaside places and against extreme weather conditions and temperature changes. To sum up, the special benefits of the top solar heaters ANDRIANOS are:
Advantages of ANDRIANOS water heaters
They have an optimal cost/performance ratio.
Collector AND-SOLAR Premium is a flat plate collector encasing harp type absorber with very high efficiency level. The efficiency factor of Premium collector is ηcol=67% according to EN12975, making Premium the most powerful certified collector of Greece and one among the best harp type collectors worldwide. This collector has been tested in NSCR DEMOKRITOS laboratory in Greece and is certified with SOLAR KEYMARK.
It is in TOP 5 of the collectors in Europe at a degree of efficiency ηcol=67% according to EN12975
Water storage tank: Consists of hot rolled steel, 3mm thick with double internal layer of enamel, processed at 860° c, according to DIN 4753 standard.
Close loop boiler with double enameled water storage tank.
Insulation of collectors: 40mm.
Thermal insulation: Ecological, incombustible and water-soluble high-density (>50kg/m³) expanded polyurethane surrounds the water storage tank and jacket for minimum heat loss, maintaining the hot water temperature, thickness 50mm.
They have a selective absorber with a high-performance PVD coating for quick high temperature production.
For perfect waterproof finish and proper ventilation of collectors casing, all materials used (EPDM, polyurethane sealant) resist to extreme temperature changes.
The front cover of the collector is made of heat processed safety glass with low iron content 3.2 mm thick, 91.5% permeating.
The frame of the collector is made of aluminum with a special paint coating for maximum resistance to seaside areas and generally in areas with extreme conditions.
The safety glass contains low iron.
High quality, recyclable materials that are durable and environment friendly.
They achieve maximum heat transfer between the copper hydroplate and the absorbent surface due to laser welding technology.
They have high-strength support bases that can be easily installed on flat or roof tiled surfaces.
ANDRIANOS water heaters are ideal for an easy and safe installation due to the high quality components.
A wide range of SOLAR KEY MARK and SRCC certified systems are available.
Download the commercial Brochure of ANDRIANOS Solar Water Heaters

ANDRIANOS Thermosiphonic Systems Technical Specifications
Type

Code

Capacity

#

Collectors

Area / Collector

Total

Collector

Area

120SFMax200
902.005.0005
120lt
1
2,00 m2
2,00 m2
160SFMax237
902.005.0010
160lt
1
2,37 m2
2,37 m2
160SFMax272
902.005.0015
160lt
1
2,72 m2
2,72 m2
200SFmax237
902.005.0020
200lt
1
2,37 m2
2,37 m2
200SFMax272
902.005.0025
200lt
1
2,72 m2
2,72 m2
200SFMax300
902.005.0030
200lt
2
1,50 m2
3,00 m2
300SFMax474
902.005.0035
300lt
2
2,37 m2
4,74 m2

Kit roof

with

6 hooks

902.001.0010
-
-
-
-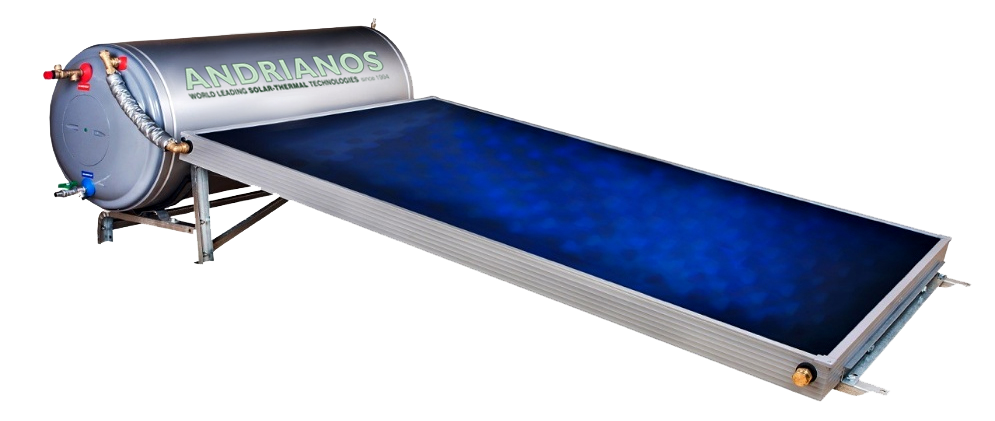 ANDRIANOS Low Height L-H solar water heater is ideal for use in aesthetic constraints such as summer resorts (hotels, hostels, etc) and traditional settlements (island houses). This thermosiphonic system remains invisible on the roofs of the buildings, while at the same time especially in the summer and for areas in the Mediterranean, it has an impressive performance. With the premium collector AND-SOLAR Premium.
-Easy assembly and fitting.
ANDRIANOS L-H Thermosiphonic systems Technical Specifications
160 L-H 237

160 L-H 272

200 L-H 237

200 L-H 272

300 L-H 474

Capacity

156lt

156lt

197lt

197lt

286lt

Number of Collectors

1

1

1

1

1

Area / Collector

2,37

2,72

2,37

2,72

2,37

Total Collector Area

2,37

2,72

2,37

2,72

4,74

Guarantee collectors/ boiler

10 years / 5 years
ANDRIANOS Solar Collectors Technical Specifications
Solar Collector

[Specifications \ Area]

1,50 m2

2,00 m2

2,37 m2

2,72 m2

Gross Area [m2]

1,50
2,00
2,37
2,72
Height x Width x Thickness [mm]
1480 x 1010 x 86
1980 x 1010 x 86
1930 x 1230 x 86
2160 x 1260 x 86
Weight (empty) [kg]
27.8
36.2
43
48
Maximum operating pressure [bar]
10
Stagnation temperature [οC]
231,09
Absorber Area [m2]
1,38
1,86
2,23
2,57
Thermal liquid capacity [lt]
1,23
1,42
1,70
1,85
Absorbing surface material
Alumimum Sheet of thickness 0,5mm

Absorber treatment

PVD High Selective (α=95%, ε=5%)

Guarantee

10 years
ANDRIANOS Solar Boilers Technical Specifications
Solar Boiler Type

[Specifications\ Liters]

120

160

200

300

Capacity[lt]

120
160
200
300
Heat exchanger capacity [lt]
7,2
9
10,8
15,4
Heat exchanger surface [m2]
0,62
0,91
1,28
1,79
Thermal Insulation
Polyurethane
Insulation thickness [mm]
54,9
66,8
81,8
114,5
Weight empty [kg]
56
67
76
106

Max working temperature / Max operating pressure

99οC / 10bar


Factory Pressure Test [bar]

15 bar

Guarantee

10 years
ANDRIANOS (former AND-solar) installations in Greece:
ANDRIANOS water heaters - The best in solar thermal
Contact ANDRIANOS to get informed about solar thermal