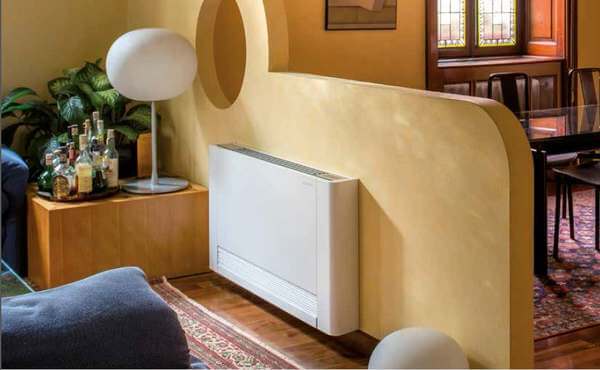 Fan coils are indoor air conditioners for cooling and heating that are connected to a water circuit and are the system for transmitting thermal energy within the premises of the building. As their name suggests (Fan Coils = Radiators of forced air circulation in Greek), their operation is based on the forced air circulation created by the fan they have.With the help of the fan, the heat is distributed in the space, in contrast to the simple radiators that do it with a synagogue without hasty flow.
The main advantages of using fan coils over conventional radiators:
In combination with a heat pump we can have heating and cooling with a single system.
Increased efficiency in heating and cooling, even at very low or high temperatures.
Power consumption is minimal and proportional to fan speed.
Easy installation.
Possibility of autonomy per air-conditioned space with the use of thermostats.
They can be easily connected to Smart Home systems for remote control.
They can be placed in visible and hidden places of the space.
Exemption from the many outdoor units required by split air conditioners.
Applications
Fan coils combine and work perfectly with heat pumps, while when cooling the space is a primary goal, then the installation of fan coils is inevitable. In addition to heat pumps, fan coils can be connected to other heating systems, such as condensing boilers and solar systems.
In general, fan coils can be installed in any building and function as a new system from scratch or replace, with the appropriate modifications, the existing thermal energy transmission system.
---
ANDRIANOS has been dealing with Heating - Cooling - Domestic Hot Water Production systems since 1994.It has products based on aesthetics, energy savings and low emissions and is certified for this by TUV AUSTRIA with ISO 9001 and ISO 14001. For fan coils, he is a master-dealer for Greece of CARRIER and an official distributor of the Italian Innova.
Fan Coils CARRIER
In 11 available sizes, either with a 2-pipe cooling element, or 2-pipe cooling / heating alternator or 4-pipe water element,with air supplies from 35 to 422 lt / sec, cooling efficiency from 0.8 to 6.4 kW and heating efficiency from 1.1 to 9.5 kW.
There are units available (42N_S) with a new generation three- or five-speed AC engine or with a low-power EC engine, variable speed (42N_E).
Two fan-type options,either a tangible flow fan for an extremely low noise level, or centrifugal fan for connection to a network of air distribution air ducts.
Slight pressure drop in the hydraulic network with multiple factory-installed control valve options.
LEC models improve the unit's energy efficiency and offer reduced power consumption, more comfort, maximum flexibility and longer life.
Fan Coils INNOVA
Innova's new flagship Fan Coils AirLeaf series combines low power consumption with modern design and extremely quiet operation.
With a depth of only 129 mm, they provide the possibility of installation anywhere on the floor or on the roof of the space, while they can be combined in any type of installation and home.
The 5 different DC Inverter fan motors provide air supply from 55 to 648 m3 / h, cooling efficiency from 8.3 to 38 kW and heating efficiency from 10 to 48 kW (water temperature at 50o C), from 18.9 to 83 kW (water temperature at 70o C).
It can be combined with low temperature generators such as: heat pumps, condensing boilers, integrated systems with solar panels.
Airleaf reaches the set temperature at maximum speed and, once achieved, is kept constant with the lowest noise level.
Available in two colors (white and silver) and in 5 different sizes from 735mm to 1535mm.

Download the brochure for Innova AirLeaf Fan Coils