ANDRIANOS established in Kalamata in 1994 from Georgios Andrianos, Dipl. Electrical Engineer.
It was initially active with great success in the retail trade, installation and technical support of heating, air-conditioning and production of domestic hot water systems. Very soon after this, has became a leader in the market of Peloponnese, providing Energy Solutions which fulfill the need for thermal comfort with maximum energy saving.
By using holistic expertise and great knowledge of the needs of the Greek market, at first it has expanded into wholesale trade throughout Greece and Cyprus and later has been successfully active in the exports of the above systems to other countries worldwide.
Georgios Andrianos - Managing Director

Internal seminar of ANDRIANOS team 2020

Accounting and Reception Department 2023

Marketing & IT Department 2023

Technical Department 2023

Tecnhical Department 2023

Solar-thermal and Biomass System for 95% of ANDRIANOS energy needs

ANDRIANOS Energy Saving Symposium 2019

Energy Conservation Symposium 2016

2013 LPG Conference in our headquarters

LPG Conference at our seminar room 2013
Αreas of activity
- Solar Thermal Systems
- Tanks, Components & Fittings for LPG and Natural Gas Networks
- Heating - Air Conditioning - Heat Recovery Ventilation
- Heat Pumps & Condensing Gas Boilers
- Hybrid Energy Saving Systems
- Underfloor Heating/Cooling Systems
- Smart Home - Energy Management Systems in buildings
- Water Quality and Hygiene-Sanitation
- Maintenance of Cooling/Heating Networks
- Misting Systems - Humidity Control
---
The quality of ANDRIANOS
We are certified with ISO 9001, in all areas of activities, validating our commitment to quality even when certifications were not widespread. All business departments operate with job procedures and descriptions and implement ERP and CRM systems.
Ιn addition we implement an Environmental Management System according to ISO 14001: 2015, proving our environmental awareness.
---
Strong partnerships
Our main criterion for the selection of our partners is the focus on innovation and the efficiency of the products which trade in. As a result, we are one of the industry leaders in our country, ensuring exclusive partnerships and strategic trade agreements with 23 European and American manufacturers.
Some of these are top German company GOK, which is a leader among the LPG components manufacturers worldwide, American Carrier with heat pumps and air conditioning systems, ARISTON group global specialist in water heating and heating products, Salus one of the leading companies in automation products.
See more ANDRIANOS brands here: Brands
Our involvement with Solar Thermal Systems has established us as the most specialized company in Solar Thermal in Greece, Cyprus and around the world. Since 2015 we have started the production and distribution of leading Solar Thermal Systems with the brand name: ANDRIANOS - World Leading Solar Thermal Technologies.
---
Our Customers
As a distribution / wholesale company we share the same vision with our customers and build long-term relationships of trust with them. Our priority is to provide high quality, innovative and competitive products into Greek and international market with efficiency and consistency.
Cooling- Heating stores
Plumbers – Technicians - Engineers
LPG stores, Natural Gas stores and HORECA suppliers
Energy Saving & Renewable Energy stores-offices
Wholesalers
As a Technical company / Retail in Peloponnese region we offer Thermal Comfort & DHW production solutions at:
Private customers
Plumbers – Technicians
Private Enterprises
Public Enterprises
---
Energy Saving Tech Force
In order to ensure the quality of our services, we established the subsidiary company, Energy Saving Tech Force, which undertakes the facilities and the technical support of ANDRIANOS's customers.
A team of skilled and licensed technicians and engineers with actions that are characterized by quality and devotion to the suppliers, clients and consumers, based in the holistic know-how and experience in the simplest to the most complex electromechanical projects.
Energy Saving Tech Force's successful provided services are based in three sectors: Quality - Competitive Cost - Keep to the timetable
Learn more: Energy Saving Tech Force.
Energy Saving Tech Force
---
Human resources - Company is our people
Our human resources today consist of 27 people. Our priority is to ensure a creative environment with a perspective of innovation and education for our people. Inspiring commitment, skill creation and enthusiasm, we provide ongoing training and expertise on new technologies and techniques, so that they continue to walk the path of improvement and excellence.
We have a modern seminar space with the necessary equipment for the practical and theoretical training not only of our partners, but also of all the customers of the company.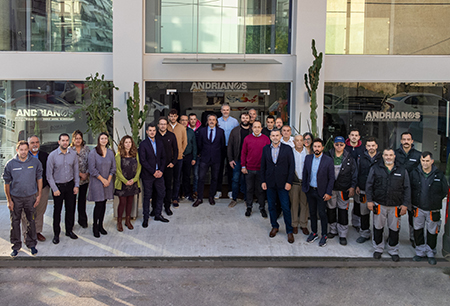 Team of ANDRIANOS
Symposium of Energy Solutions in the seminar room of ANDRIANOS