LPG (Liquefied Petroleum Gas) is stored in liquid phase, but consumed in the gas phase. It is necessary to gasify (vaporize) the gas in order to be in the gaseous form, ready for consumption.
LPG tanks are a natural gasifier, which when the gas is supplied from the top of the tank is taken in a gaseous form, ready for consumption.
The LPG tank is a natural gasifier-vaporizer
There are cases, however, which is necessary to use an LPG vaporizer.
What is the LPG Vaporizer?
LPG Vaporizer are heat exchangers for the liquid phase of the liquid gas, ie they are vaporizers and are used when the gas supply necessary for the consumption can not be obtained without a Vaporizer.
Such cases are when:
The gas storage area is not large enough to meet the needs of the consumer under all circumstances.
There are space or regulatory restrictions that prevent the installation of additional tanks or bottles.
There is a loss of pressure during the cold months (when the tank does not work properly as a natural gas blender due to low temperatures)
Advantages of Using a LPG Vaporizer
The use of the LPG Vaporizer has the following advantages:
It neutralizes the "tank frosts" that cause production losses or delays.
Constant gas supply.
Venturiers save space. More tanks = Extra space
Vaporizers add overheating to propane gas.
Vaporizer operate at low temperatures.
Tanks need not be kept between 50-75% when it is cold.
Reduces propane feed rate and increases delivery quantity.
Doubles or more the ability/capacity of the system without the addition of tanks.
It helps to eliminate accumulations of heavy residue in the tanks.
100% fuel utilization offers application versatility.
Indicative image with connection of a vaporizer
Types of LPG Vaporizers
Depending on the application, requirements and installation conditions, different types of LPG vapor are available, such as:
Direct Fired Vaporizers
Electric Vaporizers
Hot Water or Steam Powered Vaporizers
In addition, there are other solutions for the successful gasification of LPG in the tank, such as:
LPG Tank Heaters
LPG tanks with integrated exchanger
---
Since 1994, ANDRIANOS, based on modern perception, knowledge, infrastructure, has signaled the expansion of LPG in Greece and represents exclusively in Greece and Cyprus the American Company ALGAS SDI, which is considered a market leader in the global LPG vaporizer market. It also imports and distributes in the Greek and Cypriot market, the leading LPG tanks of the Italian company Plinoxotar.
---
LPG Vaporizers Algas SDI
ALGAS SDI is the world's leading manufacturer of fuel deployment and transport equipment. It manufactures high quality systems and distributes them to more than 87 countries.
DIRECT FIRED LPG Vaporizer - Algas SDI
The Algas LPG vaporizer, Direct Fired model, is an ideal solution for applications where there is no electricity or a portable LPG vaporization option is needed.
Direct Fired line of vaporizers are simple, economical, and easy to install solution for crop drying, construction heating, greenhouses, poultry farms, etc.
As its name implies, a Direct Fired vaporizer uses direct flame to vaporize liquid LPG inside a heat exchanger.
The vaporizers are recognized by 3rd party approvals worldwide; UL (U.S. and Canada), CE/PED (DNV) and are the most commonly used vaporizer worldwide!
Features:
Outputs of 80, 160 and 240 kg / hr
Up to 3,100 kW total combustion load
Cheap for purchase
Extremely inexpensive to install
Space is needed in buildings and tanks.
It needs regular maintenance. Especially if the unit is idle
It works until -40οC
BROCHURE ALGAS SDI VAPORIZER DIRECT FIRED
---
ZIMMER Electric LPG Vaporizer - Algas SDI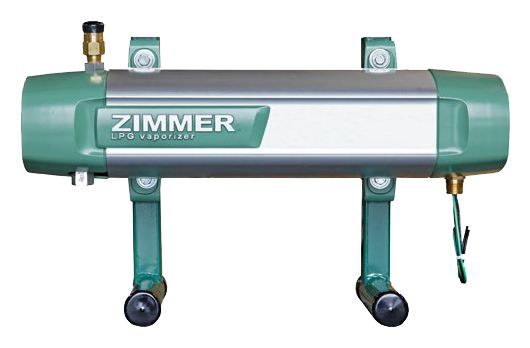 The Algas LPG vaporizer, Zimmer model, is suitable for restaurants, hotels, construction, crafts, small industries etc.
The ZIMMER model is a simple, reliable, and cost-effective LPG vaporizer.
Available in P (propane mixture) and L (butane mixture) models, with venting capacities of 25Kg/h, 40Kg/h, 50Kg/h, 100Kg/h & 150Kg/h.
Cerfified with CE, PED(SEP), ATEX, UL, CUL & DEMKO.
Features:
Hands Down the Most Reliable and Trouble-free Vaporizer Available
Energy-Efficient, Self-Modulating Heaters – Only Uses the Required Energy
Easy Access to All Maintainable Components
Dry-Electric Design – No Water, No Glycol to Maintain
Aluminum Construction – Corrosion Free
Easy to Install – Multiple Mounting Options
25 to 150 kg/hr* – Easily add in parallel for even Greater Capacities
Start-up in less than 60 seconds – LPG vapor when you need it
Commercial Brochure ZIMMER Vaporizer
---
TORREX LPG Vaporizer - Algas SDI
The Algas LPG vaporizer, Torrexx model, is safe, simple, reliable, durable and needs minimal maintenance.
It is ideal for installation in schools, hospitals, clinics, hotels, resorts and other places where size, simplicity, aesthetics and safety are critical.
Innovations:
The exclusively used Liqui-Safe valve prevents fluid transport and provides visual indication in the event of a problem
Increased reliability through simplified and more effective controls - no start / stop interruptions.
Enhanced 135A automatic switch increases life and reduces maintenance
It can withstand instantaneous power failures without interruption.
Replaced temperature controller (thermostat) with adjustable operating point.
Thermocouple temperature sensor increases life and reduces maintenance.
Features:
Dry electrical design does not require water or glycol.
Thermal yield of 98%.
Operation with any liquid gas mixture from 100% propane to 100% butane.
Perfect for every climate-designed for -400F / -400C.
Ready for operation in less than one minute.
Output 25, 50, 100, 160 and 320 kg / hr
Explosive - Rating Zone 1
Approved by FM or CE
The resistors are thrown directly into the aluminum core
The internal heat exchanger increases efficiency and reduces heat loss
It reaches operating temperature in less than 50 seconds
It works as -40οC
Commercial Brochure TORREX Vaporizer
---
HYDREX Hot Water or Steam Powered LP-Gas Vaporizers - Algas SDI
The "HYDREXX" indirect ignition gas vaporizer can be used in cases where there is no 3-phase current or when a direct ignition bleeder is inappropriate.
Hydrexx is a compact indirect heated vaporizer. The heat source can be excess hot water from a process or from a dedicated hydronic boiler (remote or packaged from the factory). Hydrexx can also accept saturated process steam as the heating medium.
Ability: Up to 500 Kg / h
Safer design
Minimum power consumption
Liqui-safe valve, which prevents liquid LPG from passing through the blender.
No corrosion
Simple design
Commerical Brochure HYDREX Vaporizer
---
LPG Vaporizer (Tank Heater) Algas SDI SECOND SUN
Second Sun™ is a flameless catalytic tank heater designed to safely and efficiently augment natural vaporization in propane, LPG and anhydrous ammonia storage tanks.
When our environment is unable to supply the needed energy, Second Sun is an ideal solution!
It is ideal for installation in hotels, restaurants, heating plants, poultry farms, crafts and industry.
Catalytic heating is a flameless process that involves chemical reactions aided by a catalyst. The reaction starts on an electrically heated catalyst surface causing complex molecules to rearrange as simpler molecular structures. The primary by product of this catalytic process is heat.
Second Sun emits this heat against the surface of the tank as infrared waves similar to a radiant heater.
This warm, low intensity heat mimics the energy from the sun. Since catalytic heating is flameless, Second Sun meets hazardous location requirements..
Commercail Brochure Vaporizer SECOND SUN
LPG Storage Tank with Internal Heater Plinoxotar Italy
Horizontal tank for underground installation model "NATURA" with epoxy coating and cathodic protection CE marked according to Directive 97/23/CE (P.E.D) ) by notified body ISPESL ISPEL (CE 0100).
The internal heater is composed of a shell and pipe heat exhanger, positioned in the bottom of the tank, that allows, in a simple and absolute safe way, the "controlled" vaporization of LPG with running costs extremely low when considering the throughput that can be obtained (up to 300Kg/h).
Heat exhanger and control instruments (pressotake,termometer, electric panel EExi) are included in the declaration of conformity to 97/23/CE Directive (P.E.D) and 94/9 CE (Atex) and therefore the tank installation is straightforward without any additional paperword or "Declaration of incorporation" necessary when two or more CE marked items (for example an external vaporizer and a LPG storage tank) are connected together.
More Informations: Commercial Brochure LPG Tank with Internal Heater
Contact ANDRIANOS to find out about other LPG vaporizing solutions