The Solar Controller is responsible for setting and recording the important parameters of the solar system. It is contained in the solar station and is considered the "heart" of the solar thermal system, since it is responsible for the proper operation and synchronization of all individual parts.
What is the state of the solar thermal installation? Is it energy efficient?
Just a click of a button - and you have the answer. The power of the collector is permanently measured to transfer the maximum energy to the solar boiler. A sophisticated software in the background guarantees an ideal energy balance at all times. In addition, through the solar controller, it is possible to instantly manipulate and configure parameters via the internet, from wherever you are in the world.
---
ANDRIANOS has been working on Solar Systems since 1994. Since 2015 ANDRIANOS designs and manufactures in two of Europe's finest factories, solar water heaters, as well as solar boilers and solar panels with the brandname AND-solar, which assembles at its headquarters in Kalamata. It offers its customers one of the finest and most competitive solar solutions in Europe. The name ANDRIANOS in both Messinia and the rest of Greece is synonymous with quality and energy savings in solar thermal systems.

Solar Controllers RESOL & SALUS
Using its long experience in Solar Thermal Systems, provides solar controllers from the leading European companies RESOL & SALUS. It has products and solutions in the simple cases of a solar heater, as well as the most demanding and modern systems that are being implemented, combining ANDRIANOS 'latest technology and know-how to create systems for every demand from the smallest to the largest building area.

Solar Controller - Control System DeltaSol SL
With its versatile software, the DeltaSol® SL can control even complex systems easily and reliably. 27 pre-configured system layouts with up to 3 hydraulic variants each facilitate the commissioning and enable the adaptation to the individual system requirements. The operation via 2 main buttons and 1 adjustment dial, the Lightwheel®, still follows the well-known operating concept. The multicoloured LED, integrated in the Lightwheel®, offers many possibilites to signal different system states. The microSD card slot and the 2 microbuttons for quick access to the manual mode and the holiday function are located underneath the slidable housing cover, the SLider.
Includes:
4 Pt1000 sensors (2 x FKP6, 2 x FRP6)
4 relay outputs (incl. 1 potential-free extra-low voltage relay)
4 inputs for Pt1000, Pt500 or KTY temperature sensors
2 PWM outputs for the speed control of high-efficiency pumps
---
Solar Controller - Control System BX Plus
The DeltaSol® BX is equipped with 26 pre-programmed basic systems for a broad range of 1- and 2-store systems. Pre-defined functions facilitate system parameterisation. The DeltaSol® BX L has been especially developed as an economical solution for multi-store solar thermal systems. It features pre-programmed system layouts for a range of 2- and 3-store systems and special functions such as an extended priority and loading logic. With the integrated SD card slot, system data can easily be logged and transferred to a computer.
Inlcudes:
5 sensros Pt1000 (2xFKP6, 3x FRP6), PWM adapter cable and SD card
4 relay outputs and 5 Pt1000 temperature sensor inputs
2 inputs for analogue Grundfos Direct SensorsTM (DeltaSol® BX)
2 PWM outputs for the speed control of high-efficiency pumps
26 basic systems to choose from (DeltaSol® BX), 9 basic systems (DeltaSol® BX L)
For 2- and 3-store systems (DeltaSol® BX L)
Drainback option (DeltaSol® BX)
Thermal disinfection function, heat dump function
Unit °C and °F selectable
---
System controller DeltaSol MX RESOL
The DeltaSol® MX is the most versatile system controller for complex solar and heating systems in our product range. It is ideal to control a combination of solar and non-solar parts of the system. Easy combination and parameterisation of pre-programmed functions for several millions of hydraulic variants. Data logging, storing, easy transfer of controller adjustments prepared and firmware updates via SD card. Cooling over the heating circuit with condensation detection by means of a dew point switch. Simplified timer, 0-10 V boiler control and DHW preheating. Remote access to the heating circuits with room control unit(s) or the VBus®Touch HC App. Extended optional functions, e.g. solid fuel boiler function with mixer and target temperature control
Includes:
6 Pt1000 sensors (2xFKP6, 4x FRP6), PWM adapter cable and SD card
12 sensor inputs and 14 relay outputs
Up to 5 extension modules via RESOL VBus® (45 sensors and 39 relays in total)
4 PWM outputs for speed control of high-efficiency pumps.
Inputs for analogue and digital Grundfos Direct Sensors™
---
RESOL ΚΜ2 - Remote control to the controller& built-in data recording
KM2 is the ideal interface between a Resol controller and the internet. In addition, it allows you to record system data and access the system through it www.VBus.net
Includes: CD, cable LAN, power adapter and pre-connected cable VBus
---
Solar Controller Salus PCSOL 201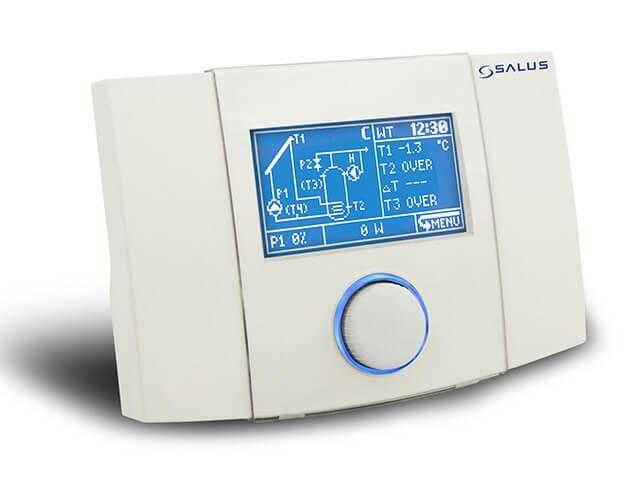 PCSOL 201 is a microprocessor controller with graphic display and TOUCH & PLAY operation system. It is intended for controlling solar circuits. Can be used with HIGH EFFICIENCY solar pumps controlled with PWM signal and volt-free H output.
Features:
PWM control of HIGH EFFICIENCY pump
TOUCH & PLAY operating system
Many solar schemes to choose
Posibility to connect 4 temp. sensors PT 1000 (CT6-PT1000 and CT6W-PT1000 included)
Turning off the heater when solar starts to work
Function of pump stop after reaching max. temp. of the tank
Function of heat drop after reaching max. temp. of the tank
Time periodes for heater
Intelligent alarm - identification of alarm situations
Antifreeze function
Calculation of recovered heat
Visualization of recovered energy from the drain of the last days
Technical details:
Measurement inputs (low voltage): 4 temperature inputs
Other inputs/outputs(low voltage): Output (H) 5-6 V/0,1 A (DC), Output PWM for controlling the solar pump (only P1)
PWM freguency signal: 200 Hz
Signal level: 5 V
Digital: 5÷100%
High voltage outputs: Output P1, P2: 230 V/ max 0,5 A (AC)
Power supply: 230 V (AC), 50 Hz. I=1.02 A*
Load ability: P1,P2 not more than 0.5 A (AC)/output
Operating conditions: 0° ≤ Ta ≤ 40°C, humidity 10-90%, without condensation
Protection degree: IP 20
Weight: 280 g
Dimensions [mm]: W-140 H-95 D-40
---