Solar Thermal Technology converts solar energy into useful heat: economically, efficiently and safely. All that is needed is solar radiation and AND solar systems technology. It is sufficient to have a solar collector of 4 to 6 square meters in size to feed an average household of 4 people with hot water for use. In this way, solar heating covers 25% of the human needs for energy. Then, you can easily save about 80% of the energy consumed to heat the space, with the sole requirement of supporting your heating system with solar energy. The best way to achieve the above is by using a solar heating system signed by ANDRIANOS.
Prices & Cost of Solar Thermal Systems
The price of a solar thermal system varies depending on the installation and the required needs. ANDRIANOS has a wide range of collectors, solat tanks (boilers) and solar controllers, so in every installation the right materials are used to meet the requirmentss at the lowest possible cost. Do not be fooled by the increased cost of some products, the most important factor after all, is the depreciation of the investment. Some solar thermal systems and their estimated depreciation can be found on the pages of Domestic Solar Installations and Hotel Solar Installations.
Check out the price of a solar thermal system
Solar Thermal Systems
In a Solar Thermal System, the optimal alignment of all system components - modular collector, fresh water solar tank or solar stratified tank and solar control system - ensures smooth and efficient operation of the whore system.
The main parts of a solar thermal system are:
COLLECTORS
The main role in the process of solar energy acquisition belongs to the solar collectors. They bind solar radiation and convert it into valuable heat. In place of the hose, the collector has an aluminum absorbent material. This binds the sun, heats and transfers the heat to the water passing through the absorbent material. The special coating and the very efficient insulation ensure that as little solar heat as possible is lost. So simple and so effective! The solar collector energy efficiency is usually over 60%. Exceptional insulations ensure low heat losses.
Placement areas
Large surface collector for installation in the roof
Large surface collector for installation on the roof
Independent placement
IMPORTANT CHARACTERISTICS OF THE SOLAR COLLECTORS
High degree of effect through PVD coating, laser welding and meander system (over 95% absorption, 5% emissions)
Simple and easy placement in all areas of use (inside the roof, on the roof and standalone fittings for 15 different types of roof)
Long life thanks to sturdy construction and durability in temperature and weather conditions
Weather resistant
Small heat losses due to high insulation values
10 years warranty
Solar Keymark Certification (Quality Seal)
High know-how and experience of 20 years
For more informations about Solar Collectors contact ANDRIANOS
SOLAR TANKS - BOILER
Solar boiler systems of ANDRIANOS are compatible with all kinds of heating systems. The space-saving construction structure, simple and fast installation, modern design and high performance make them an ideal solution for reliable energy savings.
For Example : A 1.000 lt boiler + 18 m2 of solar collectors = g 5.800 kWh Energy Saving per year.
Fields of use
In solar water heating systems and heating aids.
In biomass systems as a backup water heater.
In systems with heat pumps as a container for hot water and heating.
IMPORTANT CHARACTERISTICS OF THE SOLAR THERMAL BOILERS
Optimal use of solar energy for hot water and heating with stratified charging.
Healthy fresh water heating using a special stainless steel corrugated pipe.
Improved financial performance for each heating system (solar, biomass, heat pump).
Steady, especially fast hot water.
Simple operation concept without complex technology (physical principle).
Design for space saving with minimal heat loss due to high-performance thermal insulation.
5 years warranty, internationally guaranteed system.
Container volume from 500 to 5000lt.
Long service life.
For more informations about SOLAR TANKS - BOILERS contact ANDRIANOS
SOLAR STATION

The solar station is the "heart" of the solar thermal system, since it is responsible for the proper operation and synchronization of all the individual components. A solar station consists of the solar controller, the solar pump, a safety valve, manometer and thermometer, as well as non-return valves. The operation of the solar station lies in the central control of the solar thermal system: Through sensors placed on the solar panels and the solar boiler, the solar controller gives the appropriate commands for the circulation or not of the water in the system. At the same time, the system's operation is recorded on a memory card for better parameterization and immediate monitoring of system performance.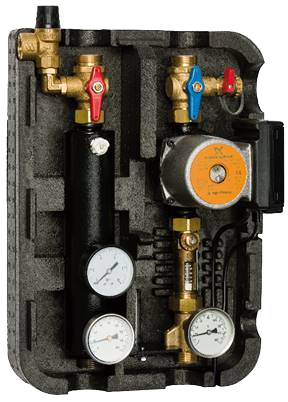 Advantages of Solar Stations
Built-in power saving mode
The solar control unit can be expanded
Available version with high efficiency and energy-saving pump, energy class A
Anti-lock function for circulators
Speed control using Triac (phase control)
Electronic quantity measurement of heating with digital sensors
Integrated digital flow sensor
Continuous data storage for over 200 days with on-screen graphic display
SD card slot (memory card for data storage) for system parameter
Large LCD screen illuminated and clearly neat user interaction
The solar station is fully wired electrically
Contact Andrianos to find out about solar stations
Home Solar Systems
Andrianos offers domestic solar thermal systems with guaranteed energy savings.
You may find examples at our page about Home Solar Thermal Systems
Hotel Solar Systems
Across Greece, many hotel owners in cooperation with Andrianos invested in Solar Systems
More informaton about Solar Thermal Systems in Hotels
Download the PDF version of the Solar Thermal for Hotels Brochure (available in Greek language only)
Contact ANDRIANOS to get informations about Solar Thermal Systems.