It's a fact that hybrid systems are now one of the best and most modern solutions to meet the thermal needs of a house, as the individual subsystems complement each other and maximize performance levels. Not many people are aware that even the existing, old and modern facilities can be upgraded to hybrid systems, as long as an experienced team of engineers with the holistic know-how is in charge.
This project is an example of the above: A TiSUN solar thermal installation, which consists of a 1000 liter solar container, six solar thermal collectors and an 9kw electrical heater, fueled the underfloor heating system of a three-storey building in Kalamata. The owners were seeking for even higher levels of performance, so they addressed to ANDRIANOS' team to improve the system.
ANDRIANOS' engineers checked the operation and efficiency of the existing system and proposed two interventions with strong impact.
The first intervention was to combine the TiSUN Solar Thermal with a high-tech CARRIER 6kw AWH Heat Pump. So even on days when the solar thermal system does not fully meet the house's thermal needs, the Heat Pump provides the necessary extra thermal energy.
The new Heat Pump (left) fuels the solar container (right) with thermal energy the days without sun
The second intervention was to add an integrated SALUS weather thermostat system. The modern functions of the weather thermostat corrects the setting of the water flow temperature in the underfloor heating system, depending on the outside temperature. Laboratory testings confirm savings of up to 35% with the installation of the weather thermostat system, under the condition that it's properly adjusted.
The high-tech Salus weather thermostat
For this reason, the adjustment of the weather thermostat system, as well as the installation of the Heat Pump, was undertaken and successfully accomplished by the ANDRIANOS Energy Saving Tech Force. The expert technicians configured the individual systems (solar thermal, heat pump, underfloor, weather thermostat) and set up the automation required for the proper operation of all subsystems.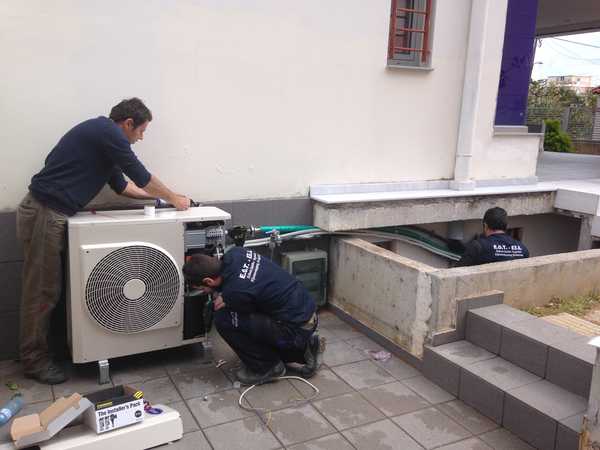 The Energy Saving Tech Force at work
The owners of the three-storey building and the ANDRIANOS' team are proud of this installation, since it's combining two different Renewable Energy Systems, the Solar Thermal & the Pump System, and achieving even greater thermal comfort & maximum economy.